Clean Water Fund: Contaminants of Emerging Concern (CEC)
MDH Legacy Initiatives
Related Topics
Environmental Health Division
Contaminants of Emerging Concern (CEC)

Protecting Minnesota's Water Resources
The CEC Initiative
Through this initiative, MDH collaborates with partners and the public to identify contaminants of interest; investigates the health and exposure potential of contaminants of emerging concern in water; and informs partners and the public of appropriate actions for pollution prevention and reducing exposures to contaminants that might be unhealthy. MDH scientists with experience in exposure assessment, toxicology, water resources, and communication collaborate closely with other state agencies and groups outside of MDH. Partners include the public; various local, state, and federal government agencies; academic organizations; non-profit groups; industry groups; and drinking water and wastewater professional organizations.
The initiative supports the Clean Water Fund mission to protect drinking water sources and the MDH mission to protect, maintain, and improve the health of all Minnesotans. The CEC Initiative has three main areas of work:
The best way to stay up to date with the CEC Initiative's activities is to subscribe to our GovDelivery email. Major announcements will be posted to our website and shared via GovDelivery.
Annual CEC Partners Meeting
Each year the Health Risk Assessment Unit's Contaminants of Emerging Concern (CEC) Initiative hosts a partners meeting to discuss and ask for input on CEC activities. This year the meeting was held virtually on Thursday, Sept. 14, at 1 p.m. CDT. At this year's meeting, we discussed:
Questions? Please contact: health.risk@state.mn.us.
Nominations to the CEC Initiative are encouraged. See CEC Nomination and Selection Process section below.
Why we study contaminants of emerging concern
Water quality studies and monitoring in Minnesota find contaminants from products or sources we never suspected in places we never expected, like our lakes, rivers, groundwater and drinking water. These emerging contaminants are found because:
improved research methods allow us to look for new chemicals at lower levels than previously possible;
industry and individuals are using new chemicals in a variety of products and applications; and
old chemicals are being used in new ways.
The work of this initiative helps MDH understand the potential health effects of these contaminants.
Differences between the CEC Initiative and other MDH health-based guidance programs
Prior to the Clean Water Fund, MDH was only able to develop human health-based guidance for contaminants that have already been found in groundwater in Minnesota. The CEC initiative allows MDH to take a proactive approach to the protection of drinking water by considering contaminants that:
have been found in groundwater, surface water, or soil; or
have not been found in Minnesota, but have the potential to enter our waters.
Additionally, this initiative provides information on how people are exposed to these contaminants. These differences separate the work of this initiative from MDH's other guidance work, and supplements existing work.
CEC Nomination and Selection Process
The CEC initiative invites citizens to submit nominations to our chemical selection process. You can nominate contaminants at any time by visiting the Nominate Contaminants page. Risk managers and stakeholders as well as the public are encouraged to nominate contaminants. MDH staff may identify additional candidate chemicals through our research and outreach with stakeholders.
The workplan from fiscal year (FY2022 - July 1, 2021 to June 30, 2022) can be found in the CEC Water Guidance Workplan for Fiscal Year 2022 (PDF). The goal of the CEC initiative is to identify ten nominated chemicals each year for the guidance development workplan. In the event of an urgent need for health-based guidance for a specific contaminant, MDH may develop guidance for a contaminant not included on the annual work plan. In that event, stakeholders will be notified via our GovDelivery email list.
The process used to screen and rank nominated chemicals is explained in the following video presentation.
CEC Initiative's Nomination, Screening and Ranking Process (video)
CEC Initiative's Nomination, Screening and Ranking Process Video Transcript and Slides (PDF)
The status of each nomination is kept, updated, and summarized in the following table:
Contaminant Evaluation and Review
MDH staff research where and how a contaminant is used in the state, its potential to enter Minnesota waters, and its toxicity to humans. If there is sufficient information on health effects, staff calculate water guidance - a concentration of contaminant in water that poses little or no health risk to people drinking that water. For some contaminants, the information is too limited. In this case, the guidance may describe the hazard posed by the chemical instead of a certain level in water.
Reviews of chemicals consist of (1) an exposure review, documenting the typical uses of the chemical and where releases are likely to occur (in coordination with the Minnesota Pollution Control Agency (MPCA), the Minnesota Department of Agriculture (MDA), and other parties with access to relevant information); and (2) a toxicological review, providing the most current information on the adverse health effects from exposure to the chemical. Refer to the Health-Based Guidance Development Process web page for more information on guidance development.
CEC Special Projects
CEC Special Projects allow MDH staff and qualified partners to consider important questions or issues surrounding CECs. These special projects can be focused on a particular CEC or group of CECs, or they may be designed to increase outreach or provide refined methods in order to evaluate the toxicity of CECs in the future. More information is provided on the Special Projects page.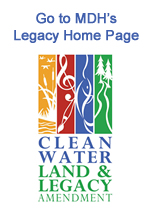 Last Updated:
09/26/2023